Education in the Craft Beverage Industry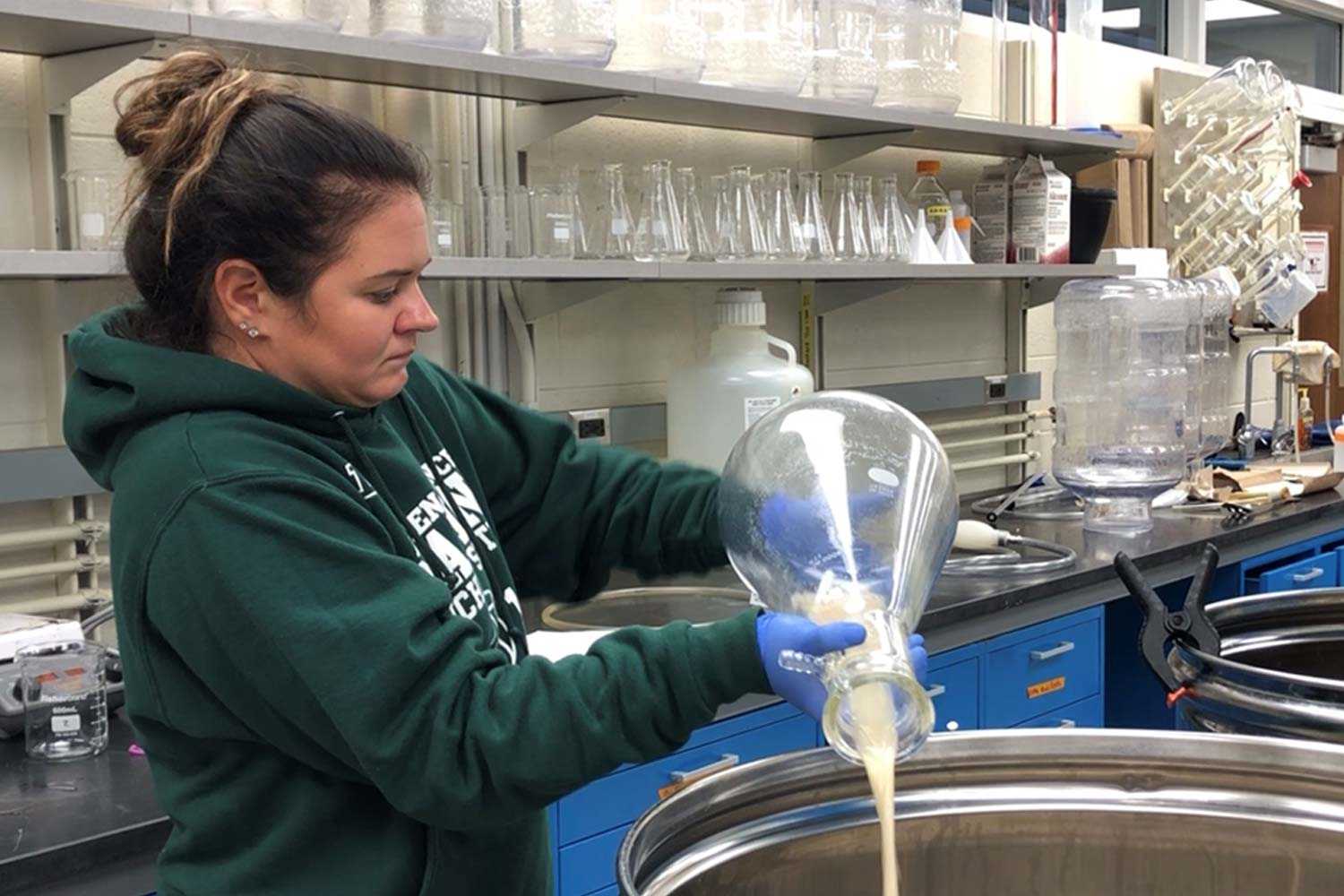 The future of Michigan's thriving craft beverage industry is supported by comprehensive education program options available around the state. Programs feature many different learning opportunities, including chemistry and food science, applied brewing practices, viticulture, craft beverage business administration, and more. Many programs provide hands-on experience and are a great doorway to landing your dream job at a Michigan brewery, winery, or distillery - or starting your own!


Craft Beverage Education Programs
Program
Affiliated University
and Location
Accreditation
Short Description

Eastern Michigan University,
Ypsilanti

Bachelor of Science

The Fermentation Science program at Eastern Michigan University has been designed to bring together subjects from multiple disciplines and to frame them in the context of the science of fermentation and its practical application.

Schoolcraft College,
Livonia

Brewing and Distillation Technology Certificate and Brewing and Distillation Technology Program AGS Degree

This program is intended for those who are interested in starting a career in brewing, expanding their current brewing knowledge and practice, or considering opening a brewpub or microbrewery.

Grand Rapids Community College – Secchia Institute for Culinary Education,
Grand Rapids

Craft Brewing Certificate

This certificate will prepare students to understand the brewing, business, and service essentials of the craft brewing industry.

Kalamazoo Valley Community College,
Kalamazoo

Sustainable Brewing Certificate

This new program of study will provide students with specific competencies considered critical when working in the brewing field in a variety of roles. Its development has been informed by industry partners and focus/advisory groups.

Lake Michigan College,
Benton Harbor

Wine and Viticulture Technology Associate in Applied Science Degree

This winemaking program is the Midwest's first and only commercial teaching winery. From grape growing to winemaking through tasting room managing, this program covers every part of the industry. Classes are also offered virtually.

Michigan State University Institute of Agricultural Technology,
East Lansing

Certificate

The Michigan State University Institute of Agricultural Technology is a partner institution with VESTA, creating outstanding opportunities for Michigan residents to access the national network for education, hands-on learning, and job placement in grape production and wine making.

Michigan State University, College of Agriculture and Natural Resources,
East Lansing

Undergraduate Minor

The Minor in Beverage Science and Technology is designed to provide students with fundamental knowledge of the production of fermented beverages. Certain courses in this minor are only offered at off-campus wineries or breweries. The minor is available as an elective to students who are enrolled in bachelor's degree programs at Michigan State University. The minor is administered by the Department of Food Science and Human Nutrition.

Central Michigan University,
Mount Pleasant

Certificate

The certificate in Fermentation Science program at CMU is a 16-credit program designed to be completed in one year. The program is open to both degree seeking and non-degree seeking students who have been accepted to CMU.

Ferris State University,
Big Rapids

Associate of Applied Science in Professional Brew Management

The program curriculum provides the necessary knowledge, leadership skills, and professionalism to prepare students for craft brewing and craft brewery operations management


Michigan State University College of Agriculture and Natural Resources, Department of Food Science and Human Nutrition and MSU College of Law

Non credit, Food Law Certificate and Master's in Global Food Law offered

This online course examines the laws, regulations, and policies that govern alcoholic beverages in the United States. The emphasis is on federal laws, specifically regulation by the Alcohol and Tobacco Tax and Trade Bureau and FDA including industry's primary regulators, the classification of beverages, the regulation of labeling and advertising, formulas, additives, three-tier distribution system, excise taxes, import/export rules and misbranding/adulteration liability, inspections/enforcement/compliance, and current hot topics. A brief comparison of state approaches to regulation is also included. Offered spring semester of each year.
Do you know of a program that could be added to this list? Please email the Michigan Craft Beverage Council with program information.

Scholarships
Fermenta is a Michigan-based organization that welcomes women involved in all fermented beverage and food industries. The organization is a 501 (c)(3) non-profit and directs funds to educational seminars and continuing education scholarships for its members.