Sixth Annual Michigan Chinook Cup Awarded at the 2023 Michigan's Great Beer State Conference & Trade Show
January 24, 2023
Contact:
Rob Sirrine
Community Food Systems Educator
MSU Extension
sirrine@msu.edu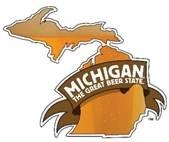 (LANSING, Mich) — The Hop Growers of Michigan presented the 6th Annual Chinook Cup award earlier this month at the 2023 Michigan's Great Beer State Conference & Trade Show at the Radisson Plaza Hotel in Kalamazoo. The conference, which hosted over 500 attendees including nearly 50 industry speakers, was presented by the Michigan Brewers Guild, Master Brewers Association of the Americas – District Michigan and Michigan State University Extension.
Modeled after the national Cascade Cup, the Michigan Chinook Cup is awarded to the Great Beer State's best Chinook hop grower as determined by a panel of expert craft brewers through a series of blind sensory tests. This year, judges evaluated eight Chinook entries with scoring provided for Aroma, appearance/Color, and Brewing Values. The expert judges included Alec Mull, Jeremy Kosmicki, Adam Schmitt and Jason Vrosh from Founders Brewing Company; John Mallet, Andy Farrell, Paul Bashaw, Louwrens Wildschut and Derek Stepanski from Bell's Brewery; John Stewart (Perrin Brewing Co.); and Jeff Shehan (Rockford Brewing Co.).
Alec Mull, current president of the Hop Quality Group, presented the 1st Place award to Jim Mikesell and Ken Porter of Dog Star Hops in Charlotte – who also won the coveted cup in 2022. They will again have their farm name engraved on the Chinook Cup and will receive a Keepsake Cup to proudly display at their facility.
Second place was awarded to Mark and Sean Trowbridge of Top Hops Farm in Goodrich, MI, and Bonnie Steinman of Bell's Brewery Estate Hopyard, Comstock, was awarded the third place trophy.
Why Michigan Chinook Hops? Although there are over 100 different varieties of hops used by craft brewers across the U.S., the top three hops have consistently been Cascade, Centennial and Chinook. Released in 1985, the Chinook hop is the result of a cross between Petham Golding and a USDA male plant.
Chinook are a "dual purpose" hop used for both bittering and aroma. In their quest to brew "standout" flavorful beers, many craft brewers have become increasingly interested in newer proprietary varieties such as Simcoe and Citra. However, a small but growing number of brewers have begun to recognize that hops of the same variety, when grown in different locations with distinct soils and climate, impart different flavor profiles. In contrast to Chinook grown in the Pacific northwest that is generally known for its piney, spicy, dank attributes, Michigan Chinook is a cultivar that is increasingly recognized for its citrusy, clean profile.
Visit Michigan State University Extension's hop webpage for more information on this growing agricultural industry.
The Michigan Brewers Guild is the network of innovative and passionate brewers that serves as the recognized advocate for the Michigan craft beer industry. The mission of the Guild is to promote and protect the Michigan craft beer industry with an overarching goal to help craft beer acquire 20% of the market by 2025.
Michigan's thriving brewing industry conservatively contributes more than $144 million in wages with a total economic contribution of more than $600 million. In terms of overall number breweries, microbreweries and brewpubs, Michigan ranks #6 in the nation – thus supporting its claim as "The Great Beer State."
-end-
PHOTO: https://www.dropbox.com/s/yb4183ormjp78a5/MBG-Conference-2023-Day2-68.jpg?dl=0
www.facebook.com/MichiganBrewersGuild
#MiBeer #MiBeerConf #DrinkMiBeer #GreatBeerState #SupportMiBeer
Link to this release online:
Sixth Annual Michigan Chinook Cup Awarded at the 2023 Michigan's Great Beer State Conference & Trade Show
https://www.mibeer.com/Resources/News/sixth-annual-michigan-chinook-cup-awarded-at-the-2023-michigans-great-beer-state-conference-trade-show