Chateau Chantal Announces 30th Anniversary Celebration
May 8, 2023
Contact:
Marie-Chantal Dalese
231-223-4110
mcdalese@chateauchantal.com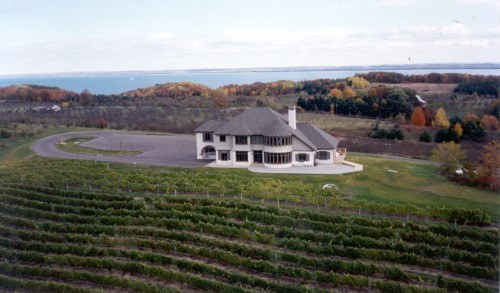 FOR IMMEDIATE RELEASE


Chateau Chantal Announces 30th Anniversary Celebration
May 8, 2023 Traverse City, MI: Chateau Chantal is hosting a 90's themed weekend June 3-4, 2023 to celebrate the opening of their winery doors in 1993. After Chateau Chantal first planted their vines in 1986, it took several years to see the fruition of founder Bob Begin's dream for a European styled winery with a bed & breakfast, finally opening in 1993.
"When Chateau Chantal started, we had 3 B&B rooms, the winery, tasting room and residence. After we expanded in 2003 and again in 2010, the company was recognized for our cool-climate wines, beautiful location and exceptional hospitality," comments winery CEO Marie-Chantal Dalese. "It's been amazing to participate in the changes to the Michigan wine community over years – we're continuously evolving."
In celebration of this milestone, the team is hosting a throw-back to the days when the winery first opened – 1993! All events take place at the winery, 15900 Rue de Vin Traverse City, MI 49686.

On June 3rd and 4th, visit Chateau Chantal for:
30% off all bottles of wine (spirits excluded)
30% off logo merch
93¢ glasses of flagship wines: Late Harvest Riesling, Chardonnay, Pinot Grigio, Pinot Noir, Gewurztraminer
1990's theme in the tasting room: staff and guests encouraged to come in '90s gear
Special free cellar tour Sat June 3rd at 1pm with winery founder Bob Begin

###
Chateau Chantal is a unique development that combines a winery, vineyards, bed and breakfast, residence, six private home sites, and winding roads, all of which combine to create a "retreat into Northern Hospitality." The 75 acre site sits high atop a ridge 12 miles north of Traverse City, Michigan on the beautiful and historic Old Mission Peninsula. Chateau Chantal crafts many styles of wine, allowing the grape to dictate the style. The location's unparalleled views and outstanding staff play host to B&B activities, cooking classes, wine education opportunities, Lunch Tours, conferences and meetings, small weddings, and friendly regional wine events.
Marie-Chantal Dalese
President & CEO
Chateau Chantal
15900 Rue de Vin
Traverse City, MI 49686
231-223-4110 Ext. 140
mcdalese@chateauchantal.com